Three miles south of Hamilton lies the winding Skalkaho Highway that takes many scenic travelers through an isolated section of the Sapphire Mountains each year, a 23,000-acre remote area that is densely forested and abundant with wildlife.
The road was constructed in the early 1920's to link the mining areas of Anaconda and Phillipsburg with the agricultural communities of the Bitterroot Valley. Today, and for many more tomorrows to come, all that travel along this highway will pass by a section of wildlife habitat that will never be changed, developed, or disrupted, thanks to one landowner's vision.
The 75-acre "Sough" property was officially conserved by BRLT in partnership with landowner Suzanna McDougal in December 2022, a decision that had been more than 30 years in the making.
"I've always wanted to conserve this property since I purchased it in the early 1990's," says Suzanna. "I fondly remember walking the land with BRLT founders Fletch Newby and Steve Powell back then, talking about the possibilities of conserving it. They pointed out many unique and historical aspects of significance throughout the property, including indications where the lapping waves of Glacial Lake Missoula had made marks on the big rocky outcroppings. Since then, I've spent a lot of time pondering when the right time would be for me to conserve it. I've realized that I'm not getting any younger, and this past year reignited the spark and I made the jump to finally get it done."
Unique in many ways indeed, the property has qualities that differ from the irrigated farms and ranchlands that are so distinct in other parts of the Bitterroot Valley. It consists of mostly dry land, yet there is a highline ditch that flows on the south border which has created a riparian habitat on the dry land. The riparian area and its aspen, cottonwood and birch trees support various animal visitors year-round, including a wide variety of bird species, bobcats, mountain lions, and mule deer, and occasional visits from the Skalkaho herd of Rocky Mountain Bighorn Sheep.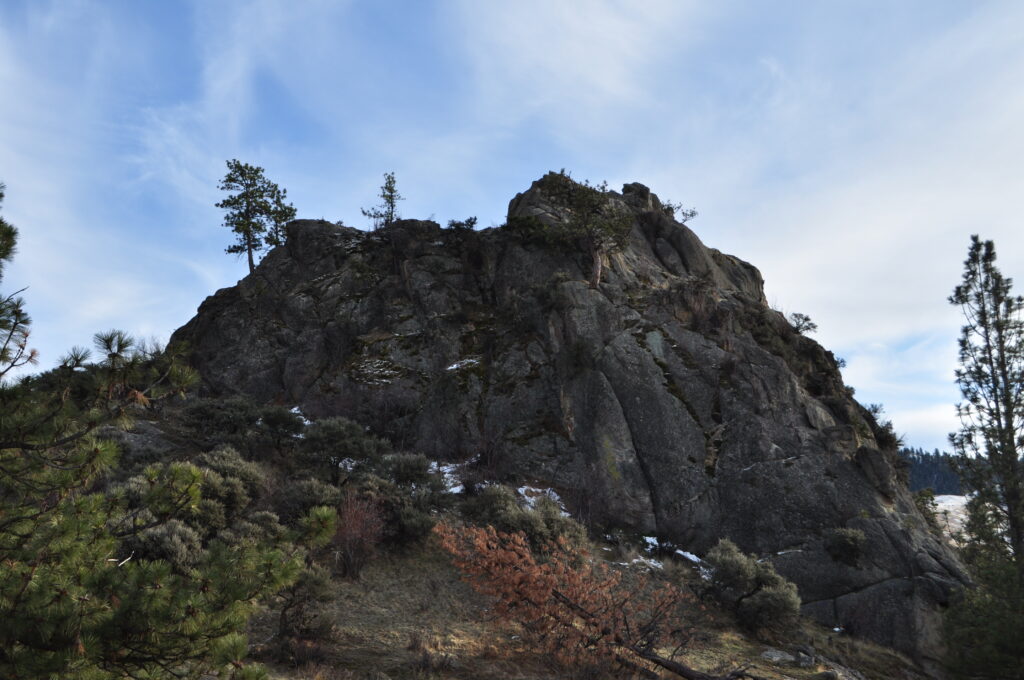 "As sheep populations across Montana continue to struggle with disease and habitat loss, protecting sheep winter range is crucial to ensuring their continued existence on the landscape," says Rebecca Mowry, wildlife biologist with Montana Fish, Wildlife & Parks. "As the demand for housing in the Bitterroot Valley continues to grow, conservation easements are becoming more and more vital to preserve habitat for the wildlife Montanans so treasure. The Sough conservation easement represents this perfectly, with its proximity to Hamilton, its attractiveness as a building site, and its importance to a small but very visible bighorn sheep herd."
The valuable habitat for the wildlife who share the property with Suzanna was one of the driving forces behind her decision to place it into conservation. She tells the story of a Bighorn ewe giving birth to a lamb on top of what she affectionately refers to as "Dragon Rock."
"From a distance, I was able to watch this baby lamb come into existence; from the day it was born and over the next few weeks as she learned from her mother to jump from boulder to boulder. Another Ewe came along with another lamb, and the two babies would play up on the rocks. They seemed to both be excited to have a playmate."
This story and many others like it make it no wonder why one would feel a strong connection with this land and care deeply about its fate. Because of this, Suzanna shares that she has done her very best throughout the years to keep her "human footprint" as minimal as possible, by participating in the State of Montana's Forest Stewardship Program and planting hundreds of native flowers and trees throughout the property, including ponderosa pines that have grown to more than 25 feet tall. The cheatgrass that had once invaded almost 4 acres has been removed, with fast spreading fescue grass planted in its place.
"It was a positive experience, working with BRLT to get this done," Suzanna reflects. "The staff coming out here, sharing their knowledge with each other and with me… It makes me wish that more people in the Bitterroot would conserve more of this place. It took me awhile to get to this place of finally being ready to conserve it, but now that I have, it feels good."
Many thanks to the decision of Suzanna for finalizing her 30-year dream to protect this special piece of the Bitterroot for years to come.