Conserving water, wildlife, and working lands
AND CELEBRATING IT WITH YOU!

Fall Miles Challenge - Oct. 11 - Nov. 11, 2021
Lace up your hiking boots, pump up those bike tires or saddle up your favorite trail horse and get moving to celebrate conservation. BRLT is hosting a "Fall Miles Challenge" from October 11 – November 11 with the goal for participants to come together to log 2,500 total miles. You can hike, walk, run, swim, ride – anything counts!
Are you part of a competitive or recreational athletic team? That counts! Out of town? No problem. You can log your miles moved from anywhere!
For every mile logged, Evans Ace Hardware in Hamilton is donating $2 to the Land Trust (up to $1,000).
Win prizes from REI, AllTrails, onX and more with our weekly contests and random prize drawings.

BRLT Meets 'Keep It Bitterroot' Campaign Goal; Community Support Will Conserve Thousands of Acres
After announcing a valley-wide call to action this summer that resulted in an outpouring of community support, BRLT announced the closing of its "Keep It Bitterroot" campaign – to increase the pace of conservation in the Bitterroot Valley to protect more working farms and ranches, the Bitterroot River and its tributary streams, open lands for wildlife to thrive, and community recreational parks and open space.
The Keep It Bitterroot campaign has now met and exceeded its $600,000 goal – in which the community was asked to raise the final $150,000 this past June.
"We made a big 'ask' to our community, and the response has been overwhelming," says Lauren Rennaker, BRLT Development Director. "We are seeing more open land disappear, and the need to conserve our Bitterroot heritage and way of life is more important now than ever. It has been a humbling experience to witness our community members, local businesses and partners come together to protect what we all love about the Bitterroot. I feel incredibly lucky to call this place home."
BRLT has partnered with nearly 50 local families to conserve over 9,100 acres of land since its inception in 1997, including iconic family farms and ranches and public parks and river access sites.
"The closing of this remarkable, one-time campaign means we have secured the funds to help increase the number of Bitterroot landowners the Land Trust can partner with," says Bret Young, Vice President of the BRLT Board of Directors, "giving us a chance to compete for extraordinary conservation opportunities in this significantly inflated real estate market. Once completed, these projects will make a difference in our community for generations to come."
Thank you to our entire community for helping to Keep the Bitterroot, the Bitterroot.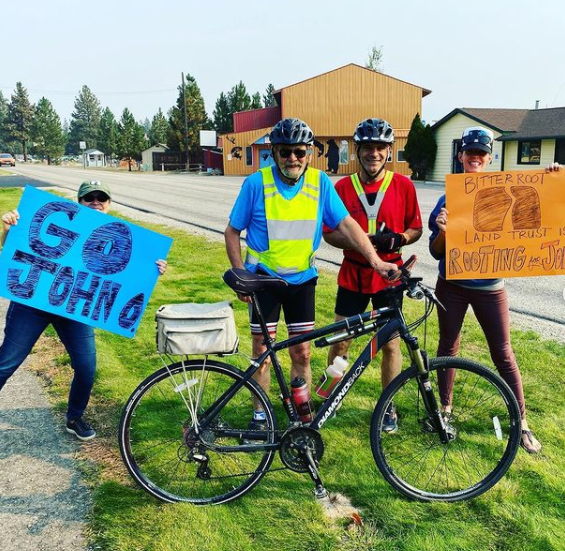 John O.'s Bike Ride Raises Record Donations
For the 14th year in a row, BRLT Board Member and Bitterroot bicyclist extraordinaire John Ormiston completed his annual bike ride in support of the Bitter Root Land Trust.
While his ride has looked different over the years (this year he participated in the Montana Senior Olympics 40k road bike race),  his passion for connecting with his community over the work of the Land Trust is constant.
With more than $17,000 collected in bike pledge donations from the community for his ride, the largest amount he has raised for his ride to date, his dedication to the mission of the Land Trust continues to inspire us all.
His answer when asked how he has time to reach so many people to support his annual ride? "Landscaping a yard, or putting on a new roof is 'work.' This is fun."
Thanks, John!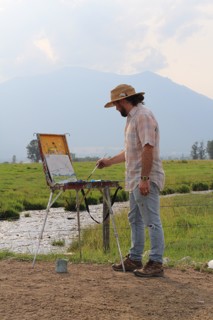 Plein Aire Under the Big Sky
BRLT partnered with Art Focus once again to bring art and conservation together for the second annual Plein Air Under the Big Sky Paint Out on August 20th – 22nd, 2021.
Artists from all over the state had the opportunity to participate in a paint-out at Severson's Flying E Ranch, located east of Stevensville in the Burnt Fork. This historic cattle ranch was conserved in 2011 by Dan and Debbie Severson in partnership with the Bitter Root Land Trust. Scenic views of the Bitterroot Mountains can be seen from the hayfields that both cattle and wildlife call home.
The paintings will be on display and available for purchase at the Art Focus gallery in downtown Hamilton from September 1, 2021, to September 30, 2021, with a percentage of art sales donated to BRLT.
To see a sneak peak of the many wonderful paintings from the event, visit the Art Focus website.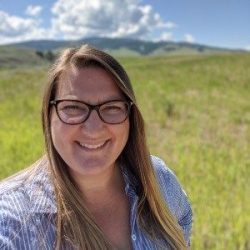 Conservation Conversations
We held a staff Q & A and project preview with our newest team member, Melissa Odell, and Gavin Ricklefs, BRLT's Executive Director in April 2021. If you would like to watch a replay, please contact the office!
We hope to host another Q & A this fall, please sign up for our eNews below so you will be the first to find out when the next one will be held.
Would you like to volunteer?
Are you interested in helping events run smoothly and meeting new people? Volunteering for an event could be the right fit. Fill out our handy online form and we will get back to you! If you have a question, don't hesitate to call the office at 406-375-0956.