Accreditation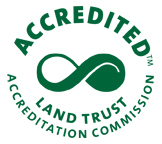 In 2013, Bitter Root Land Trust was awarded the Land Trust Accreditation seal.  The accreditation process is a rigorous, and thorough analysis of a land trust's work in land conservation.
Each accredited land trust must apply for renewal every five years and undergo a comprehensive review as part of its renewal application. The process is exacting and reinforces the organization so it can help landowners and communities achieve their conservation goals.
The goal of Land Trust Accreditation is to
Strengthen the Bitter Root Land Trust
Engage our board and staff
Ensure the Bitter Root Land Trust stays current with best practices
Better position the Bitter Root Land Trust to defend and steward conserved land
"When BRLT began the process to become accredited, we had no idea the depth of commitment it would be.  Our effort was  board driven with complete dedication and support of our hard working staff.  I believe that going through this process made the entire organization stronger and shows the public that we are a trustworthy organization.

We remain committed to the very highest standards of excellence and integrity as we work with our friends and neighbors who opt to explore a conservation easement for their land in this beautiful valley we get to call home."

Tori Nobles, past president
The Accreditation Commission is an independent program of the Land Trust Alliance, a national land conservation organization. The Commission recognizes conservation excellence by awarding the accreditation seal. More information about land trust accreditation can be found at www.landtrustaccreditation.org.